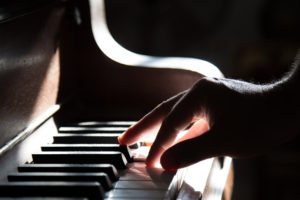 sing with us
The Mining City Choral Union is a new organization, but we have deep roots in Butte. Many of our members have performed with the Montana Tech Choral Union and the Butte Symphony in years past. Contact Us if you're interested in becoming a member!
Our Community
The Choral Union is made up of community members of all ages and many levels of experience. We welcome anyone to join us for a short audition, regardless of your experience. In addition to our community choir, we collaborate with the Copper Hill Choir from Montana Technological University.
Our Director
Fred Crase is a Butte native and graduate of Butte Central High School. He received his Bachelor of Music in Composition and Technology from the University of Montana in Missoula and his Master of Music in Composition from the University of Glasgow in Glasgow, UK (Scotland). Fred became one of the founding members of the Buttenik Ensemble at the Covellite Theatre in Butte, MT in 2004, where he worked as the Music Director until 2007. In 2009, Fred took part in the World Premiere of 6:01 am, a hip hop/spoken word musical, as the Composer and Conductor with members of the Reno Philharmonic and Nevada Opera Orchestras in Reno, Nevada.
Beyond his academic achievements and career in Musical Theatre, Fred is also a multi-instrumentalist and a prodigious and inventive guitarist. He has released two albums – a primarily acoustic self-titled debut and the more progressive rock/metal Of Old Dogs and Men.
Fred is currently the Musical Director for the Brewery Follies in Virginia City, MT and has held this position since he returned to Montana in 2010. He is also the director of the Copper Hill Choir of Montana Tech, the Mining City Choral Union, and the Aldersgate Chancel Choir.
Our Music
The Mining City Choral Union performs a wide variety of music twice a year during our Spring and Winter Seasons. We host one performance per season, usually in May and December. The community in Butte has grown to love our concerts and truly cherishes the music we perform.